JG-CH DAMON VON DER BURG LITERMONT
Congratulations
In this way, a big thank you to our Nikki, she has worked with diligence and perseverance successfully presented on many weekends "our Damon" on exhibitions, both at home and abroad.

 Also available with "Sammy" Nikki was very successful.

 

01.06.2009 Kito's birthday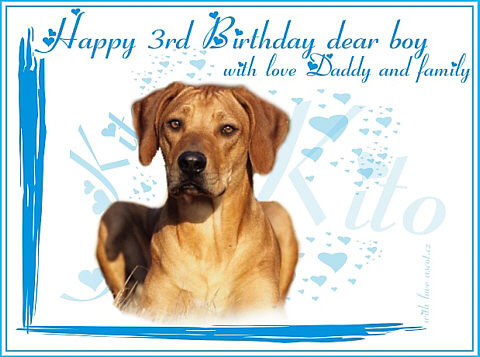 2009-05-17
Damon/Kito passed his first traffic dog examination in the German-Shepherd-Club in Bad Soden.
2009-05-15
Sammy has got his first agility DVM-Qualifikation, with a fault-free run.
It is his first Qualifikaton für die Agility-Klasse A2.
2009-02-27
"Damon von der Burg Litermont" has his first mating with
"Ye Japha Heshima Lulu".
The ultrasound was successful. Lulu is pregnant.
You can find more information on Lulus web page.
Many thanks to the breeder who has taken an unexperienced male for her female.
Congratulations

Damon has passed his breeding exam without any restriction.