Fabiola-Siri von der Burg Litermont
Congratulations to the first litter.

21.10.2011, Fabiola-Siri von der Burg Litermont has born 9 puppies.
5 malesand 4 bitches.
Show results from Fabiola-Siri.

Congratulations for this great performance.

We are very proud of you.
CACIB Neumünster, Klub DZRR  
NAT Hundeschau, Klub ELSA
V 1, CAC VDH CAC Klub ELSA
Nat. Rassehundeschau Oldenburg, Klub RRCD  
Spezial-Rassehundeschau Großenaspe Klub ELSA  
2010-10-09, breeding test in Schweinfurt.
"Fabiola-Siri" has passed her breeding test without any restriction.

Congratulations to Siri and Birgit.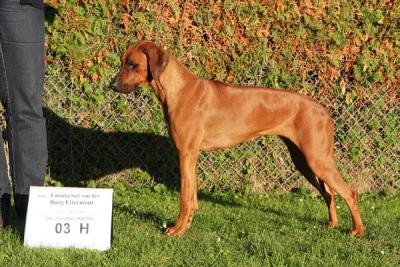 CAC Gemeinschaftszuchtschau in Pritzhagen ELSA  
CAC Landessiegerschau Berlin-Brandenburg in Pritzhagen  
ELSA Clubschau
Bad Wildungen  
10.Gemeinschaftsschau Neresheim-Stetten  
10.Gemeinschaftsschau Neresheim-Stetten
Spezial-Schau, Klub RRCD Maisdorf  
V 1, Jg-CAC Anw. VDH / RRCD
Spezial-Schau, Klub ELSA Schöningen  
V 1, Jg-CAC Anw. VDH / ELSA  
V1, Jg-CAC Anw. VDH /ELSA Landes-Jd-Sg-Thüringen  
V 2, R-Jg-CAC Anw. VDH / ELSA  
V 2, R-Jg-CAC Anw. DZRR/VDH