Eboni von der Burg Litermont
Ekmara at the age of 6 moths.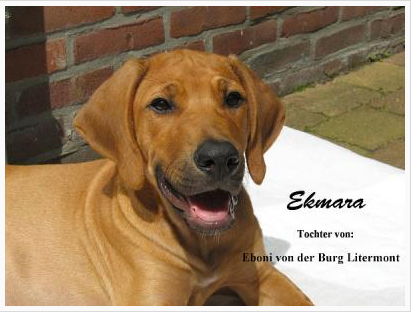 Eboni has a little bitch born at 2011-19-04.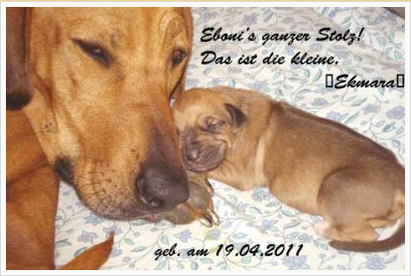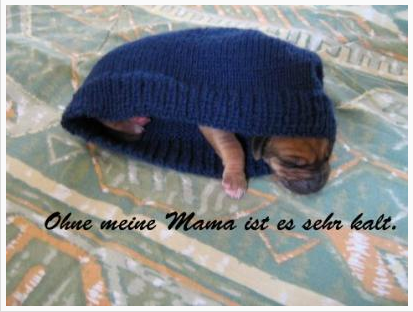 More information can be found on the website of the

Kennel: van the Pronkhonde

We are very proud of "Eboni".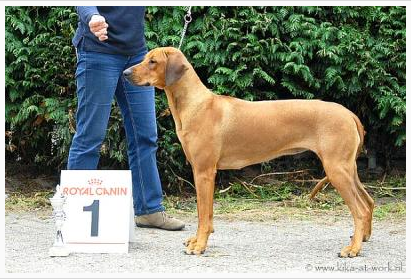 Congratulations to the results.

Eboni's x-ray results:

HD - A
ED - Frei
Norberg waarde 40
Botafwijking 0
Eboni has a complete scissor bite.
Thus Eboni has fulfilled all breeding conditions in the Netherlands.
More information and pictures can you find on Eboni's own page. click here

2010-10-23
2010-10-10
2010-09-04

CACIB, NL-Utrecht
CACIB, NL-Zwolle
Klubschau, Holland
J. P. Achtergael (B)
B. Möller-Hansen (DK)
E. Haapaniemi (FIN)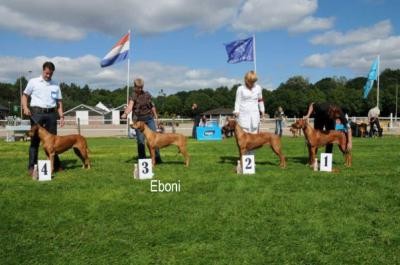 CACIB, Rotterdam
CACIB, NL- Goes

Dhr.Kersten Scheel (DK)
Dhr. E. Patterson

Alkmar
Klubschau RRCN, NL- Zaltbommel
Mevr. G.J.W. de Vries-Hoogland
Meerdere (NL)